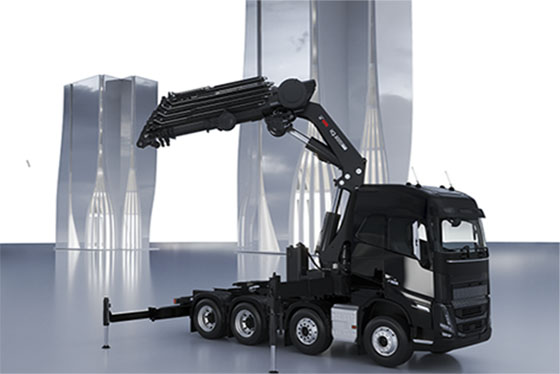 HIAB
i

Q.958 H

i

PRO CRANE

POWERFUL AND FUTURE-FORWARD
Long-reach precise performance – even at high speeds
Add new functions over time + extend crane life with open-platform SPACEevo control system
Maximized capacity – even on 4-axle trucks
Highest jib-power capacity, payload and lifting performance for its class
Set up quickly from the cabin with Dynamic Load Chart
Future-forward performance and control
The HIAB iQ.958 HiPRO is one of HIAB's intelligent truck-mounted articulating cranes – combining power, reach and future-thinking. Mechanically, that includes next-generation performance and safety features like its ultra-compact V12 Power Boom. The uniquely shaped boom delivers precise, impressive long-reach performance and maximum payload. And it can do that on various trucks – even those with 4-axles. Intelligently, the future-forward iQ.958 HiPRO's SPACEevo open-platform control system is like no other.
The iQ.958 HiPRO is perfect for long-reach, heavy-lifting urban applications like steel structure displacement, logistics, heavy loads and machinery, glass plate and shipping container handling and highway maintenance.
Powerful, future-forward performance
The HIAB IQ.958 HiPRO's technologically advanced design centres around its unique V12 Power Boom. Fully loaded with all options, it takes up just two metres (six feet) of 'in-space' and less than four metres (12 feet) in height. The compact shape makes it ideal for installation on a wide variety of truck sizes, including 4-axle/32-tonne GVW. It also allows maximum load capacities and precise long-reach performance while keeping crane weight to a minimum, and lower vehicle weight means fewer trips, less fuel and lower C02 emissions.
A variable pump increases flow and gives you excellent fuel economy. And an optional cyclone tank takes sustainability over the top. The iQ.958 HiPRO handles up to 10 jib extensions and features breakthrough jib power at the seventh extension, maximizing its overall lifting ability. It also comes with a new personalized CD4 Remote Control that lets you work to your preferences, optimize safety and have absolute control at your fingertips.
A future-forward open-platform control system
iQ.958 HiPRO's new SPACEevo control system is the future-forward intelligence behind its structure and mechanics and key to its outstanding balance, control and precise operations – even at high speeds. The iQ.958 HiPRO truck-mounted crane has advanced safety and productivity features like a Dynamic Load Chart (DLC-S) that simulates load capacity for faster set-up from the comfort of your cabin and built-in connectivity so operators can opt to access HIAB HiConnect™ at any point. And Variable Stability Logic PLUS (VSL+) calculates stability based on the truck's total weight relative to the position of the stabilizer legs to optimize lifting capacity.
The really exciting part is that SPACEevo is an open-platform system. That means functions can be created and added, keeping the iQ.958 HiPRO is up-to-date and top performing throughout its long life.
Built to last – future-forward thinking
Future-forward-thinking also means the HIAB iQ.958 is built to last and hold its value. Nano-tech-based environmentally friendly HIAB nDURANCE anti-corrosion coats virtually every square inch. It protects your equipment from just about everything and will keep it looking great for years. Future-forward thinking also applies to outstanding service and support – just what you get from ML-Truck Equipment, MasonLift in BC, and Atlas Polar's national sales and service network.