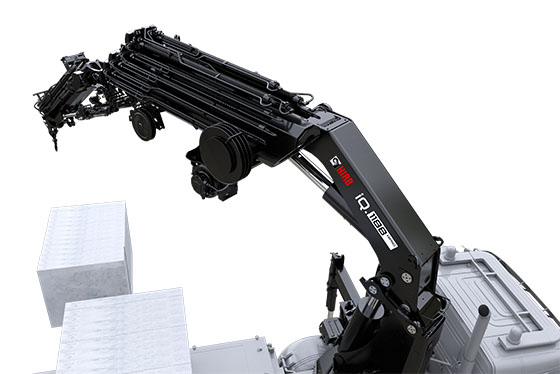 HIAB
i

Q.1188 H

i

PRO CRANE

FAST, INTELLIGENT CONTROL ON 4-AXLES
Precise, high-speed operation, plus continuous updates with open-platform SPACEevo control system
Extra payload, transport, and reach performance
Flexible reach with 10 extensions (or 9+6 on jib)
Faster startup + fleet advantages with personalized remote-control settings
Schedule lifts with simulated stabilization; detect operator location before extending
Fewer trips, fewer costs and greater fuel economy
Evolutionary space-age system
Meet the evolutionary next-gen, next-level HIAB iQ.1188 HiPRO truck crane! Modular, open-platform and purpose-designed for optimization, it delivers on reach, capacity, precision, performance, speed, safety and control all around on almost any job. HIAB's highly advanced new SPACEevo control system with a CD4 remote control and innovative new V12-Power boom shape is essential to that. The unique compact shape gives this lightweight articulating crane the heaviest lifting performance in its category and increased available weight allowance.
The SPACEevo control system is behind the iQ.1188's precise high-speed operation, enabling it to work faster, more safely and efficiently. And its high-tech features let operators do some remarkable things. Safely perform lifts that would otherwise exceed capacity (Automatic Duty Control (ADC)). Reduce speed automatically at capacity and lift an additional 10 percent without stopping (Automatic Speed Control (ASC)). Increase lift capacity with Variable Stability Logic Plus (VSL+). And increase safety with Vertical Load Stability System (LSS-V), which reduces unintentional operator movements and Semi-automatic Folding (SAF) that safely folds and unfolds the crane using a single lever. A dual-core processor, sensors, actuators and a new harness design give the iQ.1188 HiPRO power with increased reliability assures confidence on even the most challenging jobs. SPACEevo also simplifies operations, enabling less experienced operators to handle complex loads safely and enabling continuous updates to keep your crane up-to-date, extend its life and maximize resale value.
Next-level CD4 remote control
The CD4 remote control combines with SPACEevo to take the iQ.1188 HiPRO next-level. You get more information, vibrational feedback, three big colour displays and longer battery life. Every operator can personalize and store settings like crane reaction and speed for a faster startup on every job – a big plus for fleet managers. Dynamic Load Charts (DLC-S) also speed up productivity. The feature simulates stabilization in advance so operators can plan ahead and hit the ground running. And with HIAB, safety always comes first: Confirm View identifies the operator's location and only allows stabilizers to open when they are in full view.
A bigger payload and bigger pay-offs
The iQ.1188 HiPRO is light, compact, has lots of available added room for payload, and has a 30-tonne capacity that can easily install on a 4-axle 90tm truck. This capacity usually requires a 110tm vehicle. With optimized performance reaching 40 m (131.24 ft.) vertically and 36.5 m (120 ft.) horizontally, the iQ.1188 is the ultimate flexible all-rounder. It can handle almost anything you want to lift, from heavy loads and machinery movement, highway maintenance, bridge inspections, steel structure displacement and general logistics to glass plates and cabin and container placement and deliver it quickly and precisely. The iQ.1188 HiPRO is so compact that, even with ten extensions (or nine plus a special V12 Power-shaped 155Q-6 jib), it requires very little space on the truck (just 2 m (6 ft.) of in-build and 4 m (12 ft) in height. So you can move those materials faster, with fewer trips and reduce fuel costs. The HIAB iQ.1188 HiPRO has an optional 3.5-tonne (7,700 lb.) winch.
That level of flexibility extends to other technologies found on the iQ.1188 HiPRO. Features like a variable pump, Automatic Dumping Oil (ADO) system, and an optional cyclone tank that reduces oil usage, weight, space and running costs help to make the HIAB iQ.1188 HiPRO more sustainable. Features like its long-lasting protective nano-tech nDurance coating and HiConnect-readiness go a long way toward future-proofing this articulating crane and holding its resale value – the highest in the industry. It further helps to know that, like all HIABs, iQ.1188 HiPRO truck-mounted cranes are backed by the knowledge, experience and broad coverage of ML-Truck Equipment in B.C. and Atlas Polar's national truck-mounted sales and service network.